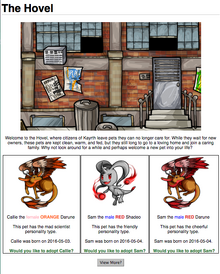 " Welcome to the Hovel, where citizens of Kayrth leave pets they can no longer care for. While they wait for new owners, these pets are kept clean, warm, and fed, but they still long to go to a loving home and join a caring family. Why not look around for a while and perhaps welcome a new pet into your life?  "
The
Hovel
is a place where users may disown or adopt existing pets. Unlike the
Adopt A Pet
page, users can find pets of non-basic colors here. Disowning as well as adopting pets is free, and there is no daily limit on how many pets can be adopted or disowned. However, a user may not exceed their Pet Slot limit. Because anyone may adopt Hovel pets, it is not recommended to use the Hovel for trading or lending, as there is some risk involved.
There will always be three pets shown, with the option to randomly view 3 more, unless there are less than 3 pets in the hovel. In that case, only one or two pets will be displayed. If there are no pets in the hovel, only a message proclaiming that it is a "Happy day for Kaylune pets!" will be displayed beneath the hovel blurb.
Known Issues:
Edit
When placing a pet in the hovel, the attached kael will be deleted. There is no warning for this.
When placing a pet in the hovel, the ID number identifying the pet will be changed.